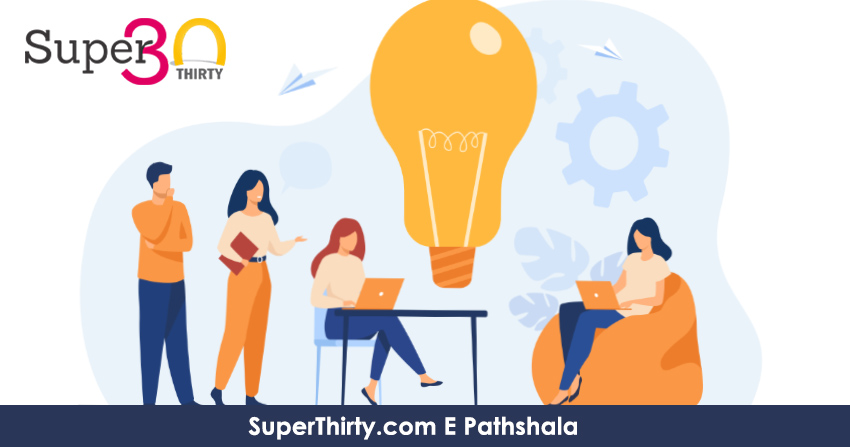 SuperThirty.com: Super 30 Online is an E-Pathshala from where you can get your latest information about education, government exams, jobs, start up, MLM, direct selling, network marketing, Vastu Shastra and business news.
Super 30 Group
The group consists of 30 educated people who have mastered in their fields. Many of these people are associated with education institute and some from their own business and some from network marketing field. One day, we were discussing about Mr. Anand Kumar and we were very impressed with his work. In this discussion, we all decided that why not do such a work by which we all give information related to our fields to the people so that they too can improve their lives. After that we collected some funds together and got SuperThirty.com an E-Pathshala developed.
Inspiration to create SuperThirty.com E-Pathshala
We have developed this website with inspiration from Mr. Anand Kumar. He runs Super 30 coaching institute in Patna, Bihar under the banner of "Ramanujan School of Mathematics". Every year, 30 meritorious students who come from the economically backward classes are given free education and other facilities to get them selected at the Indian Institute of Technology (IIT). Many such students from India have studied at this coaching institute. Millions of youth like us have made their lives successful by taking inspiration from Shri Anand Kumar.
This work of Shri Anand Kumar Ji inspired us that we should create some place from where people get free Govt Exam, Jobs and Business News information and we developed SuperThirty.com E-Pathshala to the best of our ability. We hope you like the information given here. If you have any suggestions, you can share us.
If someone likes our work and wants to join us and do something new which will beneficial for people, then come with us, you are welcome.
---
SuperThirty.com: सुपर 30 ऑनलाइन एक ई-पाठशाला है, जहां से आप शिक्षा, सरकारी परीक्षा, नौकरी, स्टार्ट अप, एमएलएम, डायरेक्ट सेलिंग, नेटवर्क मार्केटिंग, वास्तु शास्त्र और बिजनेस समाचार से संबंधित नवीनतम जानकारी प्राप्त कर अपने विकास को एक नया आयाम दे सकते हैं।
सुपर 30 ग्रुफ
इस ग्रुप में 30 शिक्षित लोग शामिल है जिन्होंने अपने अपने फिल्ड में महारत हासिल की है। इनमें से बहुत सारे लोग शिक्षा संस्थान से और कुछ लोग अपने खुद के बिजनेस से तथा कुछ नेटवर्क मार्केटिंग फिल्ड से जुड़े हुए हैं। हम लोग एक दिन Mr. Anand Kumar के बारे में चर्चा कर रहे थें और उस दिन हम उनके द्वारा किये जा रहे कार्य से बहुत प्रभावित हुए। इस चर्चा में हम सभी ने निर्णय लिया कि क्यों न ऐसा कार्य किया जाये जिसके द्वारा हम सभी अपने-अपने फिल्ड से संबंधित जानकारियां लोगों को दे ताकि वे भी अपनी जिंदगी को और बेहतर बनाये। फिर इसके बाद हमने कुछ फंड आपस में मिलकर इक्कठा किया और SuperThirty.com एक E-Pathshala का निर्माण करवाया।
ई-पाठशाला SuperThirty.com बनाने का प्रेरणा
इस वेबसाइट को हमने श्री आनंद कुमार से प्रेरणा लेकर बनाया है। श्री आनंद कुमार जी पटना बिहार में सुपर 30 नाम से कोचिन संसथान चलाते हैं। यह संसथान "Ramanujan School of Mathematics" के बैनर तले चलता है। इसमें हर साल 30 मेधावी प्रतिभावान छात्रों जो की आर्थिक रूप से पिछड़े वर्गों से आते हैं, उन्हे भारतीय प्रौद्योगिकी संस्थान (IIT) में सेलेक्शन दिलाने के लिये फ्री में शिक्षा और अन्य सुविधा देने का कार्य किया जाता है। भारत के कौने कौने से बहुत से ऐसे छात्रों ने इस कोचिन संसथान से शिक्षा प्राप्त किया है। हमारे जैसे लाखों युवाओं ने श्री आनंद कुमार जी प्रेरणा लेकर अपनी जिंदगी को सफल बनाया है।
श्री आनंद कुमार जी का यही कार्य ने मुझे प्रेरित किया कि हमें कुछ ऐसा जगह बनाना चाहिये जहां से लोगों को फ्री में Govt Exam, Jobs and Business News जानकारी मिलें और हमने अपनी क्षमता के अनुरूप SuperThirty.com ई-पाठशाला बनाया। हमें आशा है कि आपको यहां पर दी गई इंफारमोशन पसंद आयी होगी। यदि आपके पास कोई सुझाव है तो आप हमें शेयर कर सकते हैं।
किसी को हामरा यह कार्य पसंद हो और हमारे साथ जुड़कर कुछ नया कार्य करना चाहते हैं जिससे लोगों के फायदा हो तो हमारे साथ आये, आपका स्वागत है।